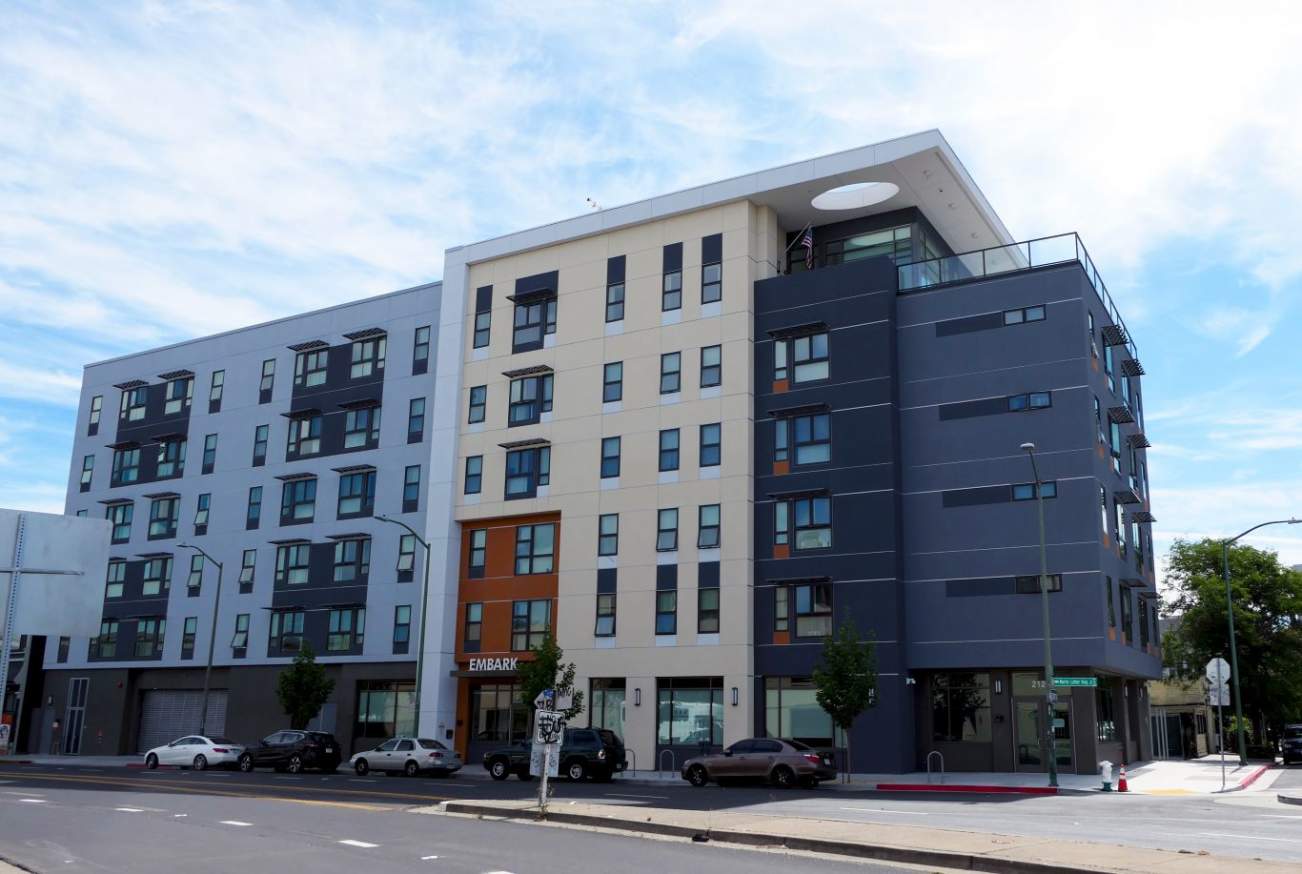 Embark Apartments
2126 Martin Luther King Jr. Way , Oakland, CA 94612
RCD Housing
Reserved for Veteran
20% AMI Unit
| Unit Type | Minimum Income | Rent | Availability |
| --- | --- | --- | --- |
| Studio | $0 per month | 30% Income | 1 unit |
30% AMI Unit
| Unit Type | Minimum Income | Rent | Availability |
| --- | --- | --- | --- |
| 1 BR | $0 per month | 30% Income | 1 unit |
| 2 BR | $0 per month | 30% Income | 1 unit |
50% AMI Unit
| Unit Type | Minimum Income | Rent | Availability |
| --- | --- | --- | --- |
| 1 BR | $0 per month | 30% Income | 1 unit |
| 2 BR | $0 per month | 30% Income | 1 unit |
Available Units
Applicants will be reviewed in order until all vacancies are filled.
Eligibility
Income, occupancy, preferences, and subsidies
Residents must meet the Veteran definition of the State's Veterans Housing and Homeless Prevention Program (VHHP). Additionally, seven (7) apartments are prioritized for Veterans ineligible for VA health care and/or HUD-VASH.

Household Maximum Income

For income calculations, household size includes everyone (all ages) living in the unit.

| Household Size | 20% AMI Unit | 30% AMI Unit | 50% AMI Unit |
| --- | --- | --- | --- |

Occupancy

Occupancy limits for this building are based on unit type.

Rental Assistance

The property is subsidized by the Section 8 Project-Based Voucher Program. As a result, Housing Choice Vouchers (Section 8) and other valid rental assistance programs are not accepted by this property.

Housing Preferences

Preference holders will be given highest ranking.

1st

Live/Work in Alameda County

At least one household member lives or works in Alameda County

After all preference holders have been considered, any remaining units will be available to other qualified applicants.

Additional Eligibility Rules

Applicants must also qualify under the rules of the building.

Credit History

If you fall into any of the categories below and you believe that there were extenuating circumstances that led to the negative report, you are encouraged to provide us with a Request for Consideration with your application that explains why the circumstance no longer apply to you. If you fall into any of the categories below due to a disability,...

Rental History

2 years rental history or Homeless verification.
Process
Important dates and contact information
Features
Amenities, unit details and additional fees
Neighborhood

Uptown

Built

2021

Smoking Policy

No smoking allowed

Pets Policy

Pets allowed

Property Amenities

Close to two Veterans Administration (VA) service centers, transit lines, shopping, schools, libraries, and parks.

Unit Amenities

On-site property management and resident services, including VA services; car & bicycle parking; com- munity room with kitchen; a smoke-free community

Services Offered

On-site resident services as well as VA services support.

Additional Accessibility

ADA units available

Unit Features
Additional Fees
Deposit
$0
Deposit equal to one-months rent (tenant portion only)
Neighborhood
Location and transportation
Embark Apartments
2126 Martin Luther King Jr. Way
Oakland , CA 94612
Additional Information
Required documents and selection criteria
Required Documents
If you are contacted to apply you will need to provide your DD214 or VASH eligibility denial letter, proof of income, proof of assets and proof of identification.
Important Program Rules
All units are VHHP-assisted and must meet the following Veteran definition: "Veteran" means any person who actively served within one or more of the military services of the United States who was called to and released from active duty or active service, for a period of not less than 90 consecutive days or was discharged from the service due to a service-connected disability within that 90-day period. This includes all Veterans regardless of discharge status.
Special Notes
Those apartments supported by Project-Based Vouchers also have preferences from Oakland Housing Authority that will be used to rank qualifying applications. Those preferences are Veterans, Live or Work in Oakland, and Family. Please read these closely in the application.